Rider Details
Bike Details
1969 had its "settling in" difficulties, as would be expected.
It was the first year Roy Thame & HC had a full team to organise.
For most of the team riders is was their first Pro year.
It was the first time they rode together as a team.
There was a big ability difference between some of the riders.
They could expect little income from bonuses, so pay would be low.
Top UK Team 1970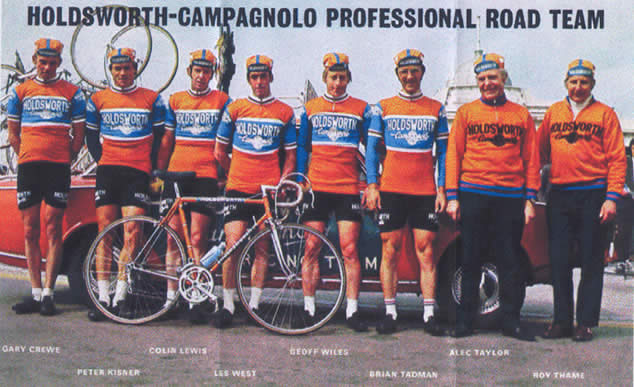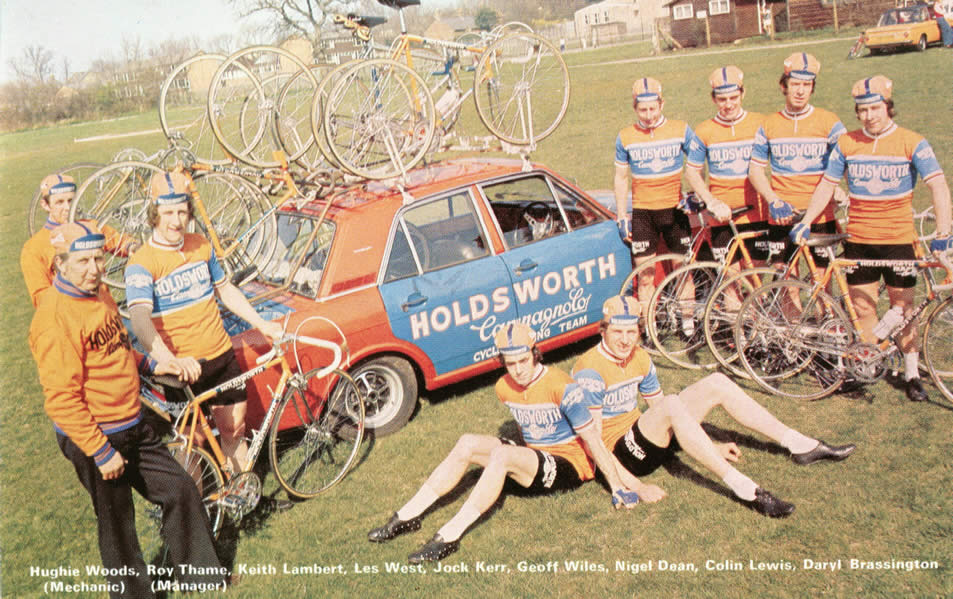 The second support car is shown here, a Ford Cortina (Mark 2) 1600E, in team colours.
Les West was a brilliant time trialist. He had a go at the London – Bath – London record. This was about 170 miles. They started about Reading early in the morning, with the idea of getting into (and out of) London before the traffic got heavy. Inside London Les soon dropped the support car (with Ray Robinson as mechanic) and built up a couple of minutes lead. However a motorist jumped a red light and collided with Les, his rear wheel was smashed. Les was unperturbed, he was well known for his laid back attitude to life, but it cost him minutes waiting for the support car and a new bike. He still broke the record.
Geoff Wiles took 3rd in the 1977 BRRC. Some European exploits were: The team competed in the Pro Tour of Britain and Scottish Milk Race of 1977 and 1978. They rode the Paris-Roubaix in 1977. They entered the Amstel Gold in Holland. Some Belgian tours, like the Tour of Flanders and the Tour of Ghent. Also the Tour of Spain.